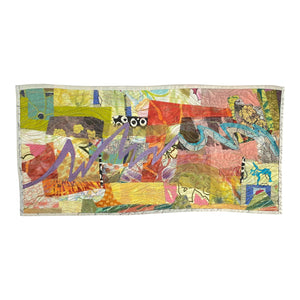 What is the line that runs through our lives? Or are there many lines? Every day, I think about the choices that, consciously and subconsciously, I take as I go along my merry way.
A one-of-a-kind textile collage with hand-dyed, and commercial fabrics. Machine-stitched.
7″ h x 14″ w (actual artwork size)
Price includes premium framing provided by The Framing Department at Hidden Light using a light oak shadow-box frame, archival backing materials, and non-glare museum glass.
Framed size is 11-1/8"" h x 18-3/8" w.