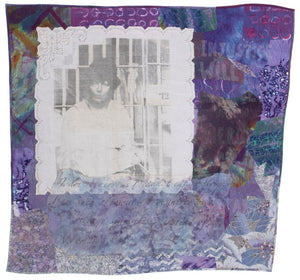 Suffragist is an homage to Lucy Burns, a leader in the movement to win the right to vote for women. She was the most-jailed activist in the U.S. movement, and along with her friend, Alice Paul, started the National Woman's Party in the early twentieth century.
Burns was arrested multiple times for protesting outside the White House in Washington, D.C. and sent to the Occoquan Workhouse. She considered herself and the other women inmates political prisoners, and helped organize protests, including hunger strikes. In 1917, after her third arrest, she was sentenced to the maximum sentence, and (along with others) tortured and tormented by the guards, including being stripped naked and chained with her hands over her head for an entire night. On hunger strike, she was force-fed through her nostrils when the guards couldn't pry her mouth open.
The ghostly portrait of Lucy Burns (made from a photo taken of her when she was at the Occoquan Workhouse) was printed onto silk organza, then hand-stitched to the antique white hand-worked napkin with 101 lines of stitching, one for every year that has passed since her imprisonment. Purple and white were worn by suffragists to identify themselves, so I primarily used those colors in this piece as well. The quote that is printed at the bottom left of the piece was told to Alice Paul; in it, Burns acknowledged her fear, but never let that fear stop her from acting on her convictions.
All this happened just a little over 101 years ago. Burns joined the movement in 1906, and it wasn't until 1920 that women were finally granted the right to vote. I find it shocking that my grandmother (who was born in 1906) was among the first generation of women to be allowed to vote, and hope we never take that hard-won right for granted.
This piece was part of the show Ultraviolet: Textile art revealing women's issues. The message on this piece reads, "Injustice will be met with fierce and determined resistance." Unfortunately, due to the nature of ultraviolet light, the message can only be viewed in person.
33″ h x 36″ w
This piece comes unframed, with a sleeve and a piece of wood that attaches to the wall.