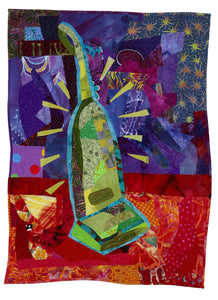 Okay, I admit it. I love to vacuum. It's one of the most satisfying things to do when I need to think. It's the noise, the useful way it shuts out the world, the gratifyingly clean floor. That and the fact that a vacuum cleaner has this great shape that looks like a niche where an icon might reside. It's just divine.
This signed and numbered limited edition inkjet print shows all the detail of the original textile piece, and is printed on archival paper, suitable for framing. Comes with a certificate of authenticity. Paper size is 22" x 17", image is 20-1/2" x 15".
Shipped in a tube, or available flat for local pickup.