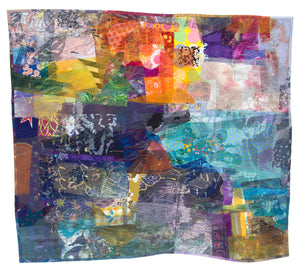 I came of age in the 1970s and was inculcated to a very specific aesthetic of beauty (think Twiggy and Jean Shrimpton.) As young women in those times, keeping up appearances often meant subverting our true natures and desires. In adulthood, I've spent a lot of time and energy investigating the nature of my true self. I believe those glimpses of our subconscious selves lead us to more authentic lives and interactions. If you look closely you'll find details of a Vogue magazine cover in this piece.


18.5″ h x 21 " w (actual artwork size)
Premium framing provided by The Framing Department at Hidden Light, using light oak frame with archival backing materials, and non-glare museum glass.

Framed size is 23-1/2" h x 25-3/4" w.